A common, bang for your buck upgrade in the cycling world is to increase the power of your brakes, by simply increasing the size of your brake rotors. But what parts and knowledge do you need to get started?
Most modern MTBs will be outfitted with post mounts. This name comes from the 2 physical posts that mount the brake to the bike. This is different from IS (International Standard) and flat mount, commonly used on road and gravel bikes.
| | |
| --- | --- |
| | |
| Flat mount, notice the caliper is mounted flush against the frame. | Post mount adapter, notice the 2 posts. |
The next thing to know is going to be the size of the rotor you wish to upgrade to, and what your bike has on it now. This will give us the measurement we need to start.
Most MTBs can now accept well above 200mm rotors front and rear, with DH and eBikes now commonly using dual 220mm rotors. Most trail and enduro bikes will hover around the 200/180mm spectrum, whereas XC and lighter-duty bikes will commonly have 160mm rotors attached to them.
Does that mean you can strap 220mm rotors to your XC race machine? Well, not necessarily. A lot of frames have limitations, and while forks can usually accept pretty big rotors, most frames have max rotor sizes due to the chainstay making contact with the rotor. The best way to be sure of this is to give the manufacturer a call, or reach out to us!
As far as forks go, the step-cast family of forks from Fox, and the SID model from RockShox, will not accept anything bigger than a 180mm rotor. It's also worth noting that the RockShox ZEB comes stock at 200mm, and will not accept a smaller rotor than that. The Pike, Lyrik, 34, 36, and 38 will all come stock at 180mm post mounts.
Now, you know what size you have, what size you want to go to, and what your limits are, what adapter you need. It's really as simple as some basic math.
| | |
| --- | --- |
| 160 > 180 = 20mm Adapter | 180 > 203 = 23mm Adapter |
| 180 > 200 = 20mm Adapter | 200 > 223 = 23mm Adapter |
| 200 > 220 = 20mm Adapter | 160 > 203 = 43mm Adapter |
| 160 > 200 = 40mm Adapter | 180 > 223 = 43mm Adapter |
| 180 > 220 = 40mm Adapter | |
In some cases, you may want to downsize your rotors as well, this is also very simple, and in most cases, only requires the rotor!
For example, if you have a 200mm rotor, but want to go down to 180mm, you can. But only if you have a post-mount adapter installed to achieve the 200mm rotor. Simply remove the post-mount adapter and install your new rotor. Directly fix the caliper to the frame/fork and you're all set!
One last thing to be aware of is the different rotor sizes. You'll notice some brands use 203 and 223mm rotors. SRAM uses 200 and 220mm even rotors. This is something to keep an eye on, as using 200mm rotors with an adapter for 203 will lead to some fitment issues, and vice versa.
Our recommendation is, if you're a SRAM user, use SRAM posts mounts, or at least double-check the sizes and make sure it's not 203mm specific. For other brands that use 203/223mm rotors, feel free to mix and match TRP, Shimano, Magura, etc.
When ordering on our site, we have a handy filter on the left-hand side. Simply figure out your number, and filter the search down to your needs!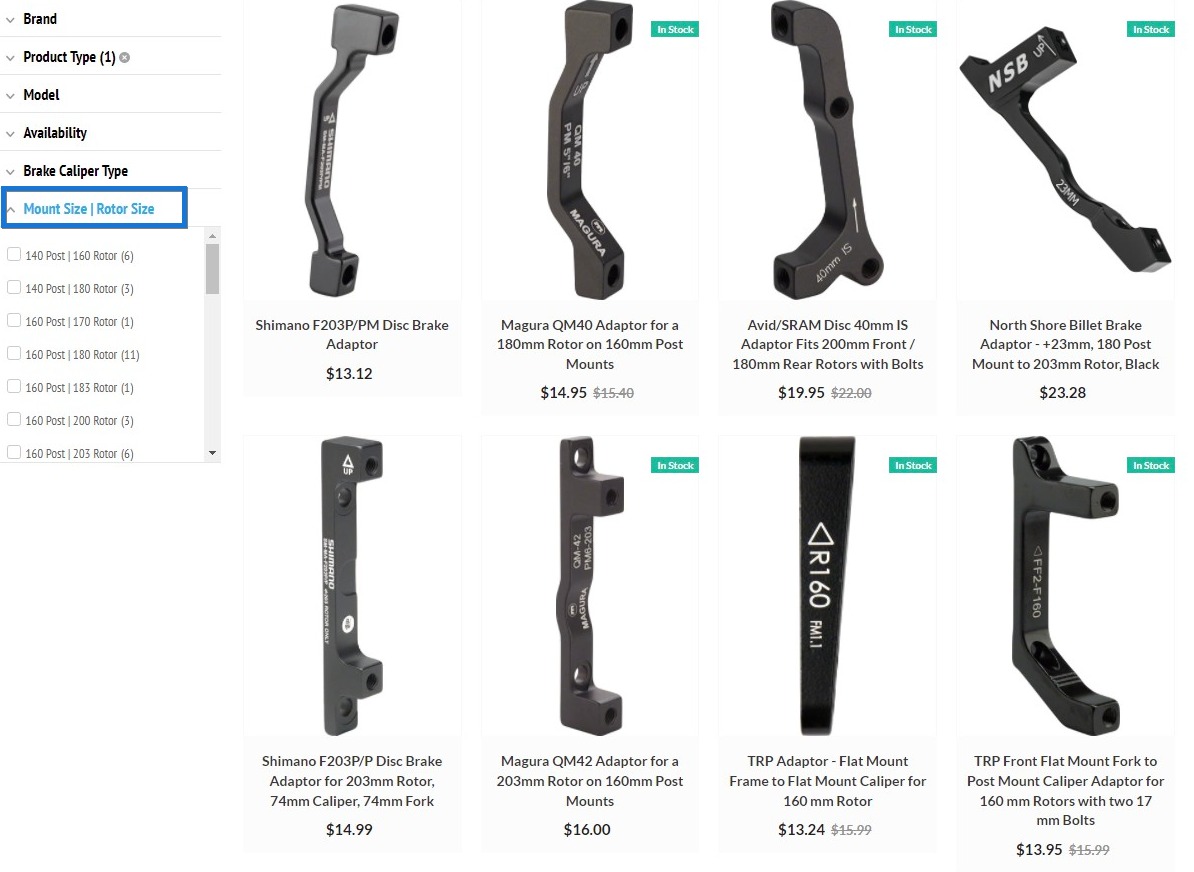 Flat mount and IS are very similar but less common than post mount. If you find yourself in jam with either of these two standards, please reach out to us!
Didn't find what you're looking for?
Contact Us