Here is some great information on how to match your rim width and your tire width.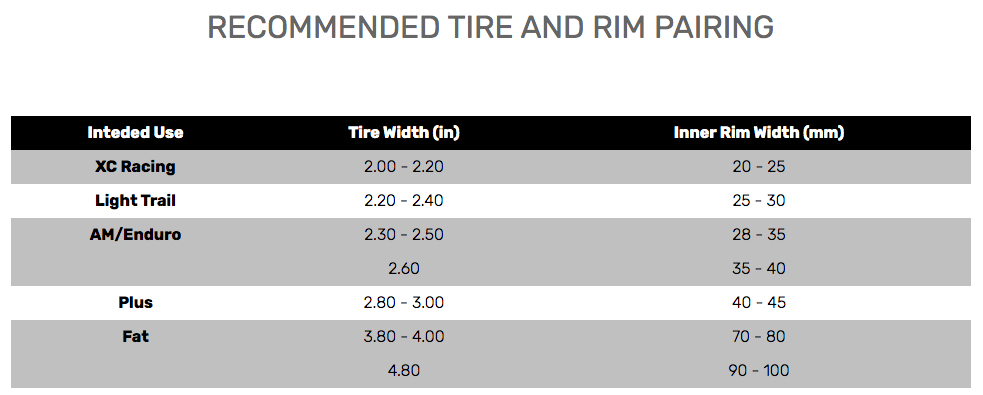 Casings and Construction Technology
SINGLE PLY - A single-ply casing is one layer of nylon that joins to the bead.
Advantages: More conforming to the trail surface and minimal weight.

Disadvantages: More vulnerable to tears and punctures.

Intended Use: Trail and cross-country style riding.
DUAL PLY - A dual-ply casing uses two layers of nylon material.
Advantages: Added sidewall stiffness and puncture protection.

Disadvantages: Added weight.

Intended use: Options for downhill and enduro-style riding.
Wide Trail (WT)
Wide Trail (WT) construction optimizes the tire's tread layout and profile on today's modern, wider rims. Traditional tires are designed around older, narrower rims and can create an overly square tire profile, leading to less-than-optimal performance. WT tires are optimized for a 35mm inner rim width but are proven to work over a range from 30-35mm inner rim widths, depending on the rider's preference.
Tubeless Ready Downhill
Sealant-compatible rubber is used with the familiar Maxxis dual-ply 60 TPI downhill construction and butyl insert for support and rim protection in order to offer the benefits of increased grip and reliability.
Threads Per Inch (TPI)
The number of threads that cross through one square inch of a single ply of the tire's casing. Lower TPI gives better puncture, cut, and abrasion resistance but is heavier. Higher TPI conforms better to the terrain, offering a smoother, more comfortable ride while
reducing the weight of the tire.
Maxxis TPI ratings are the threads-per-inch of a single casing ply, as compared to some competitor TPI ratings.
Mountain Bike Puncture Technology
EXO PROTECTION
An extremely cut-resistant and abrasion-resistant material added to the sidewalls of select mountain tires. This densely woven fabric is also lightweight and highly flexible, ensuring that the performance of the tire remains unaffected. Choose EXO Protection for exceptionally rocky, treacherous trails where the chance of sidewall cuts and abrasions is high. Most popular on bikes with 100mm to 150mm of wheel travel.
EXO+ PROTECTION
EXO+ is Maxxis' medium-duty puncture protection option suitable for all-around trail riding and lightweight e-bikes. We begin with a durable 60 TPI casing, add in our legendary EXO puncture protection layer in the sidewalls, and top it off with a small butyl insert around the bead. The tough casing and EXO material ward off damage from rocks and roots, while the butyl insert protects the tire from pinch flats and helps prevent rim damage.
DOUBLE DOWN
Double Down casing offering aimed to suit the needs of enduro riding and racing. Two 120 TPI casing layers reinforced with a butyl insert provide the enduro racer with the support and protection of a downhill tire but in a lighter package. Most popular on bikes with 150mm to 180mm of wheel travel.
DOWNHILL
The downhill casing provides the ultimate tire stiffness and toughness. These casings use a reinforced dual-ply sidewall, a wire bead, and a butyl insert, designed to meet the demands of the roughest conditions out there. Most popular on bikes with 180mm to 220mm of wheel travel.
MaxxShield
The ultimate in flat protection. We begin with our SilkShield bead-to-bead protection and add our K2 (Kevlar® Composite) layer under the tread for unparalleled durability.
Rubber Compounds
SINGLE COMPOUND
One compound throughout the tread is optimized for longevity and performance.
DUAL COMPOUND (2C)
Two compounds are used within the tread of select tires to offer lower rolling resistance and increased cornering grip.
TRIPLE COMPOUND (3C)
Three compounds are arranged in the tire for the ultimate in no-compromise racing performance.
3C TRIPLE MOUNTAIN COMPOUND
3C technology is the most popular compound from Maxxis. 3C uses a harder base layer and two different softer compounds on the center knobs and cornering knobs.
3C MAXX SPEED - Most commonly used on cross-country bikes to maximize rolling speed and tire longevity.
3C MAXX TERRA - Most commonly used on trail and enduro bikes. Made with softer compounds than the 3C Maxx Terra for better cornering grip while maintaining an efficient rolling speed.
3C MAXX GRIP - Most commonly used on downhill bikes, using the softest rubber compound that Maxxis offers in order to maximize trail grip in all conditions.

3C MaxxGrip + EXO casing = Light-duty trail riding in wet/slick conditions
3C MaxxGrip + EXO+ casing = All-around trail riding in wet/slick conditions
3C MaxxGrip + DoubleDown casing = Enduro racing and e-bikes
3C MaxxGrip + Downhill casing = Downhill racing and long travel e-bikes
SUPER TACKY - Super tacky tires are single compound tires that are most commonly paired with a downhill casing from Maxxis.
Soft rubber compound (42 durometer) used for a dead tire feel and great grip.
3C TRIPLE ROAD COMPOUND - The center compound is optimized for exceptional treadwear and low rolling resistance. The progressively softer shoulder compounds provide increased grip while cornering.
For other information: https://www.maxxis.com/us/technology/bike-technology/
Didn't find what you're looking for?
Contact Us